The Rosslyn blanket is a celebration of the Divine Feminine.
The idea was conceived as I was travelling in New Zealand.
I stayed on the outskirts of Dunedin, in a suburb called Rosslyn.
Dunedin and the surrounding area echoes Scotland, from the place names, to the architecture and the landscape.
I felt so completely at one with myself, and so inspired to celebrate my own feminine wisdom and strength.
This lead me to thoughts of what the Divine Feminine is all about, where the feminine power lies within all of us, men and women alike.
So, what exactly is the Divine Feminine?
It is the power within each of us to express balance, hope, wisdom, and the unique gifts that both men and women share with one another, and with the world.
♥  Honour our role as nurturers and collaborators.
In coming together, women share their energy and heart.
♥ Connect with kindred spirits
Every woman, and man, possesses the gift of inner knowing.
When women tap into their deep trusting power, they see clearly and far.
♥ Harness our creative energy
Women are natural creators, the spark of life.
By honouring this ability, women tap into the collective power of creation.
♥ Release shame-based belief systems and their limitations
Women are keepers of the sensual world.
They are beauty incarnate, and appreciate the beauty in their lives.
♥ Step into courage by speaking from our hearts
Women give wise council when they feel safe to share their views.

I did think, briefly, of the wonderful Dan Brown novel, and the film starring Tom Hanks, The Da Vinci Code.
The Rose Line kept going around in my mind, how the ancient and sacred energy lines connect all of us around the world.
The symbol of the rose has so much meaning, to so many different cultures and times in history. I felt now is the perfect time to think of nurturing ourselves, and our world, and so, Rosslyn begins with my interpretation of a rose, with petals that radiate outwards, creating a mandala, which can be, hung, framed, mounted, or placed in a place of your choosing to add beauty and grace to your home.
I am still trying to decide on either a box frame or a hoop to mount the one I made as I was travelling [photo further down].

There are three yarn packs available, all in Stylecraft Special Double Knitting.
Recommended hook size 4mm G.
The yarn packs are available in my Deramores store,
Feminine Creation
C1 – Spring Green x 2 – 590m/644yds
C2 – Candyfloss    x 2 – 590m/644yds
C3 – Bright Pink     x 2 – 590m/644yds
C4 – Fondant         x 2 – 590m/644yds
C5 – White                x 6 – 1770m/1932yds
Total: 4130m/4508yds
Mother Blessing
C1 – Dark Brown    x 2 – 590m/644yds
C2 – Mushroom       x 2 – 590m/644yds
C3 – Boysenberry  x 2 – 590m/644yds
C4 – Clematis            x 2 – 590m/644yds
C5 – Duck Egg         x 6 – 1770m/1932yds
Total: 4130m/4508yds
Sacred Wisdom
C1 – Pistachio          x 2 – 590m/644yds
C2 – Wisteria            x 2 – 590m/644yds
C3 – Emperor         x 2 – 590m/644yds
C4 – Violet                 x 2 – 590m/644yds
C5 – White                 x 6 – 1770m/1932yds
Total: 4130m/4508yds

Here are a few more of the Rosslyn mandalas made by me and my amazing testers.
The one shown here, made by me, was the one I worked on while travelling and is made with 4-ply cotton and a 2.75mm C hook, and measures 19½ inches/50cm.
Ann has also worked with Stylecraft Special DK with a 4mm G hook these measure 27 ½ inches/70cm.
Melissa worked with Hobby Lobby I Love This Cotton and a 4.5mm hook, 32 inches/81.5cm
♥  The next stage brings us to a square, surrounded with a wall of rose buds, protecting the heart of feminine beauty.
At this stage, you can add just one more round of single crochet, and maybe the border for a beautiful baby blanket.
The design then continues on wards with a very simple repeat of rose buds, and rose petals to become a full-size blanket.
♥  Finished size: 150cm/59inches square
The border was inspired by the beautiful stone arches in the chapel at Rosslyn in Scotland, and I have to say I am thrilled with the border.

Rosslyn is available as a paid pdf download in 
US terms photo tutorial – written pattern – UK terms photo tutorial – written pattern
And also in German
Please ensure you select the correct terms for your use.

♥ Video Tutorial links
There is a special video tutorial for the roses, and you can find video tutorials for all of the other special stitches on my YouTube Channel.
Rosslyn Rose video tutorial
♥ This is the same rose as I used in my Ring 'o' Roses square, please remember it is covered by copyright law and is not to be copied or reproduced in any way, except for in my designs and for your own personal use.♥ 
Here is some gorgeous eye candy for you, all the finished Rosslyn's made by my amazing testers, HUGE hugs and thanks to Ineke, Terena, Melissa, and Ann.
Ineke has very kindly worked out a list for her "Happy" colours.
Which are:
C1  Empire           x 3
C2  Jaffa               x 1
C3  Sunshine       x 2
C4  Emperor        x 1
C5  Wisteria         x 2
C6  Bright Pink   x 3
C7  Bright Green x 2
♥ Melissa used Hobby Lobby I Love This Cotton, with a 4.5mm hook.
C1 Sage- 540 Yards,
C2 Banana- 630 Yards,
C3 Dark Denim- 720 Yards,
C4 Stoneware Blue- 720 Yards,
C5 Dove- 2,250 Yards.
Sizes: Mandala – 32 inches, Baby Blanket – 39 inches, Full size – 67 inches.
Perfect for a twin bed.

♥ Please remember all of my patterns are covered by copyright law and may not be copied or shared in any way. You may share a link to my website or Ravelry store with anyone, you may print the PDF for your own use, but please do not alter, change or share in any way.
♥ Please love and respect me, as I love and respect you. ♥
♥ The best way to be in the know with all I am up to, is to follow crystalsandcrochet on Facebook.
♥ If you need help and advice, the quickest way to find support is to join Helen's Hookaholics Facebook group. There you will find a very supportive group of likeminded people. It's also a great place to share your crystalsandcrochet makes, and see what others are making, and see what I am up to.
♥ If you are not a fan of Facebook you can always email me with any questions you may have by using the contact form here.
♥ Please feel free to sign up to my YouTube channel for lots of helpful video tutorials.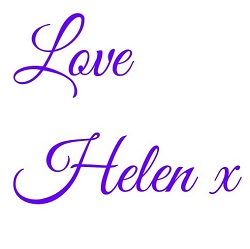 £6.00