Continuum is a versatile design to use as a complete blanket/afghan pattern, or to enlarge any of my large afghan squares.
Starting with a Mandala at the centre, Continuum gradually builds out to form layers of different stitches, giving texture and a flowing theme to this blanket design.
To round 32 you will have a 20 inch square [made with Double knit yarn and a 4mm G hook], this is the part of the design which can be replaced by any of my large squares.
Here is a cushion facing I made in Stylecraft Classique Cotton, with the central square of Continuum.
Rounds 33 to 90 allows you to grow any of the large squares to a full size blanket.
The finished size of this blanket, made with Double knitting yarn and a 4mm hook is 60 inches/152cm square.
Using thicker yarn and a larger hook will give a larger finished size, or you can repeat some of the rounds to grow your blanket as you wish.
Marvellous Magenta
You will need 7 White, 3 Plum, 3 Magenta, 3 Clematis, and 2 Lincoln.
A total of 18 balls – 5310m/5796 yds, with plenty to spare of each colour.
Yarn Packs are available from Wool Warehouse and Deramores store ♥
Stylecraft yarns are also available at  Love Crochet
One of my favourite parts is the new little flower design I came up with.
And now for lots more gorgeous photos and examples made by my amazing team of testers.
♥ Ineke has used her signature Happy Colours, I love the way her flowers match the colours, this is enough to make anyone happy.
You can find all the details for Ineke's Happy Contimuum on her Ravelry page.
♥ Lesley has used a stunning combination of peach and mint with misty grey.
Paintbox simply Aran
Misty Grey 2531yds/2315 m   Ballet Pink 692yds/633m   Bright Peach 770yds/705m
Peach orange 674yds/615m   Stylecraft baby Aran Mint 509yds/466m
Total used 5176yds/4736m
Finished size 70" square
♥ More beautiful flowers, taking photos of our projects in spring and summer is always fabulous.
You can find all the details of the yarn Sherrie used plus some helpful hints on her Ravelry page.
♥ Mellissa loves working with bright colours and black and it really makes the special stitches and texture stand out.
Mellissa's Ravelry page.
♥ And…… as an example of using another square, here you can see Moon's Shadow as the centre square, with Continuum worked from round 33 to 90.
These colours are stunning. Mellissa's Ravelry page

♥ Please remember all of my patterns are covered by copyright law and may not be copied or shared in any way. You may share a link to my website or Ravelry store with anyone, you may print the PDF for your own use, but please do not alter, change or share in any way.
♥ Please love and respect me, as I love and respect you. ♥
♥ The best way to be in the know with all I am up to, is to follow crystalsandcrochet on Facebook.
♥ If you need help and advice, the quickest way to find support is to join Helen's Hookaholics Facebook group. There you will find a very supportive group of likeminded people. It's also a great place to share your crystalsandcrochet makes, and see what others are making, and see what I am up to.
♥ If you are not a fan of Facebook you can always email me with any questions you may have by using the contact form here.
♥ Please feel free to sign up to my YouTube channel for lots of helpful video tutorials.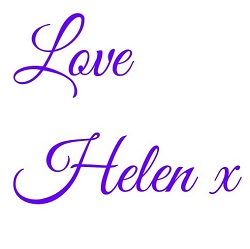 £6.00