The original Arcadia was a retreat in the Peloponnese Mountains of ancient Greece.
It was considered a place of great beauty and pastoral repose.
A place of rustic innocence and simple, quiet pleasure.
A poetic shaped space associated with bountiful natural splendour and harmony.
A haven for wood nymphs and other beings to play on Earth.
The simplicity of the shapes and stitches within Arcadia reflect the innocence to be gained from quietly observing the beauty all around us.
Arcadia is a beautiful new blanket which can be made as a baby size or full size blanket.
For the baby size you will stop at the end of round 59.
Using Double knit yarn and a 4mm hook this will give you a finished size of approx. 37 inches/ 94 cm square.
You will need approx. 1500 meters/1650 yards for the Baby size.
The full size blanket will give you a finished size of 59 inches/ 150 cm square, again with Double knit yarn and a 4mm hook.
There are two yarn packs available, both are Stylecraft Special Double Knitting and I recommend a 4mm/G hook.
Both of these yarn packs are for the full size blanket.


Arcadia Summer
Arcadia Summer Yarn pack includes:
Cream x 6, Lemon x 1, Apricot x 1, Powder Pink x 1, Raspberry x 1, Violet x 1, Wisteria x 1, Spearmint x 1, Teal x 1, Cloud Blue x 1, Cornish Blue x 1.
Total 16 x 100g balls. 4720 meters/ 5152 yards.
Available from Wool Warehouse and  Deramores store.
Arcadia Winter
Arcadia Winter Yarn pack includes:
Silver x 6, White x 2, Candyfloss x 2, Lipstick x 2, Claret x 3.
Total 15 x 100g balls. 4425 meters/ 4830 yards.
Available from Wool Warehouse and Deramores store.
If you choose to go your own way with colour, depending on how many colours you use, you will need a minimum of 3775 meters/ 4120 yards for Double knit weight yarn and approx. 20 to 25% more if you use Worsted/Aran weight yarn with a 5mm hook.

Arcadia is available as a paid pdf download in
US terms photo tutorial – written pattern – UK terms photo tutorial – written pattern
Please ensure you select the correct terms for your use.

Here are some of the gorgeous examples made by my wonderful testing team, showing both their Baby and Full size blankets.
You can find all the details of the yarn and colours they used by following the link to their Ravelry project pages.

♥ Please remember all of my patterns are covered by copyright law and may not be copied or shared in any way. You may share a link to my website or Ravelry store with anyone, you may print the PDF for your own use, but please do not alter, change or share in any way.
♥ Please love and respect me, as I love and respect you. ♥
♥ The best way to be in the know with all I am up to, is to follow crystalsandcrochet on Facebook.
♥ If you need help and advice, the quickest way to find support is to join Helen's Hookaholics Facebook group. There you will find a very supportive group of likeminded people. It's also a great place to share your crystalsandcrochet makes, and see what others are making, and see what I am up to.
♥ If you are not a fan of Facebook you can always email me with any questions you may have by using the contact form here.
♥ Please feel free to sign up to my YouTube channel for lots of helpful video tutorials.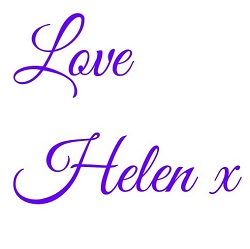 £6.00