Sacred Space

Crochet A-Long.
A sacred space is a defined place, a space distinguished from other spaces.
A sacred place focuses attention on the forms, objects, and actions in it and reveals them as bearers of religious or spiritual meaning, all we need to do is allow our heart to hear.
Each, and every one of us is a unique and beautiful soul who deserves to be loved and nurtured. We need to take the time to love ourselves and to have a quiet space to allow our creativity to shine through. We need both physical and mental sacred spaces in our lives.
Whether your sacred space is an amazing craft room or a tiny corner of your living room, or maybe even a secluded spot in your garden, this space is precious and should always be respected and honoured by other people in your life.
Away from the busy pace of everyday life, a space for you to be at peace and be creative, to give yourself time to recharge and be away from the demands of others.
I hope, during the time you work on this crochet a-long, that you find an inner peace, and a place of calm reflection, and that the love I put into my designs flows through to your heart.
Legal – Respectful bit……
Copyright: © Helen Shrimpton, 2019.  All rights reserved.
This beautiful new CAL, crochet a-long, will be hosted in the Facebook group Helen's Hookaholics.
♥ Please remember this is my design and I have spent thousands of hours working to bring you this free pattern and all the support that goes with it. My testers and translators have also spent hundreds of hours making sure this pattern is everything you have come to expect.
♥ Each part will of the CAL be available here on my website, with links in the Facebook group.
♥ The pattern is exclusively for members of my Facebook group and is covered by copyright law.
Any translations are only with permission from me, sharing any part of this pattern/cal is not allowed.
You may not copy, share[except with the link to this website] or publish any part of this pattern or my photographs in any format.
♥ Please make sure you ask permission from me, should you wish to participate in any other group to make this cal, either online or in person, this will not be allowed until after the CAL has finished.
♥ You may share a link to www.crystalsandcrochet.com or to the Facebook group with anyone.
♥ You may do what ever you like with your finished item….sell it, save it, gift it, hang it from the local flag pole!!
♥ You may share a link to my website or Ravelry store with anyone, you may print the PDF for your own use, but please do not alter, change or share in any way.
♥ Please love and respect me, as I love and respect you. ♥
Useful information
♥ The cal will run for 9 weeks starting Friday 26th July, with the final part on Friday 20th September.
♥ Each part will be posted on Friday evening 7pm [BST] UK time.
♥ Each week you will find the pdf to download from my website, there will be links posted in the Facebook group Helen's Hookaholics, and a special file with links to all the information you will need.
♥ There will be a choice of US terms and UK terms in both photo tutorial and written only pattern and, also full video tutorial support in US terms.
♥ We have some amazing members in our group who have worked very hard on translating Sacred Space cal in the following languages:
Afrikaans                  Jane Verster, Hester du Plessis, Audrey Muller.
Introducing Sacred Space Afrikaans
Arabic – عربى             Marian Zakhary, Banan Flemban.
Introducing Sacred Space Arabic
Czech – Čeština        Martina Djebara.
Introducing Sacred Space Czech
Danish – Dansk         Anja Hoberg, Hanne Elisabeth Hansen.
Introducing Sacred Space Danish
Dutch – Nederlands   Simone Ypkemeule, Josephine Schuurman.
Introducing Sacred Space Netherlands
Finnish – Suomi        Mervi Järvensivu, Anne Vierimaa, Elina Päiviö, Elina Rydman,
Hanna Jokiruoho, Teija Anttila, Soili Ronkainen
Introducing Sacred Space Finnish
French – Français      Marie Tremblay, Marie Eve Lamotte Poncet.
Introducing Sacred Space French
German – Deutsch     Astrid Seidel, Ursula Prandtstetter, Dania Olsen.
Introducing Sacred Space German
Hebrew – עברית        Sarit Grinberg, Iris Fait, Sharon Nevo, Tali Shchori, Tami Sultan udelman.
Introducing Sacred Space Hebrew
Hungarian – Magyar Pozsega Kinga, Szemenyei Ágnes
Introducing Sacred Space Hungarian
Indonesian                Indah Utama Sari, Jeanny Jeanny.
Introducing Sacred Space Indonesian
Italian – Italiano         Olga Selis, Elena Mandelli, Silvana Albanese Tabacci.
Introducing Sacred Space Italian
Russian – русский    Anastasia Moroz, Daria Nassiboulina.
Introducing Sacred Space Russian
Spanish – Español     Rosanna Maggi Churin, Gema Blasco.
Introducing Sacred Space Spanish
Swedish – Svenska   Ulrika Larsson, Åza Karlsson, Agnetha Magnusson.
Introducing Sacred Space Swedish
Urdu – اردو                  Rubia Khawaja, Zouja E Ammar.
Introducing Sacred Space Urdu
♥ Thank you so much for your time and hard work to enable so many people from all around the world to join us in this CAL.
What will you need?
Yarn requirements.
♥ Please help to support me as a designer, and help me to bring you more awesome free patterns by using the affiliate links for my recommended partners at the side of this page.
There are 2 official yarn packs.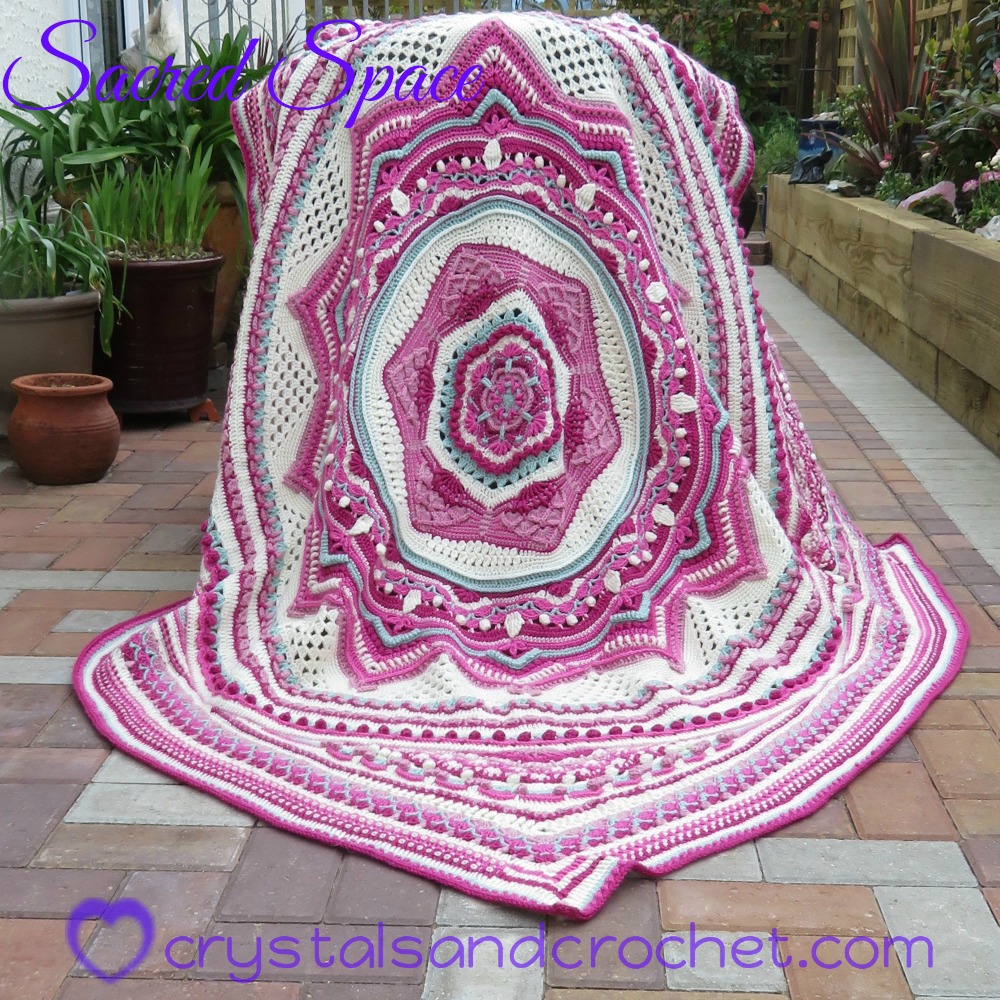 Sacred Love
In beautiful soft shades of pink and green, these colours represent the heart centre and the positive energy of unconditional love.
Stylecraft Life Dk x 17 balls ~ a blend of 75% premium acrylic and 25% wool.
Cream      x 6
Mint          x 2
Fuchsia    x 3
Lilly          x 3
Rose        x 3
You can purchase the Sacred Love Yarn pack online at Deramores. Woolwarehouse  and justknotsyarn.
Using these affiliate links helps to support me as a designer and helps me to bring you other free patterns.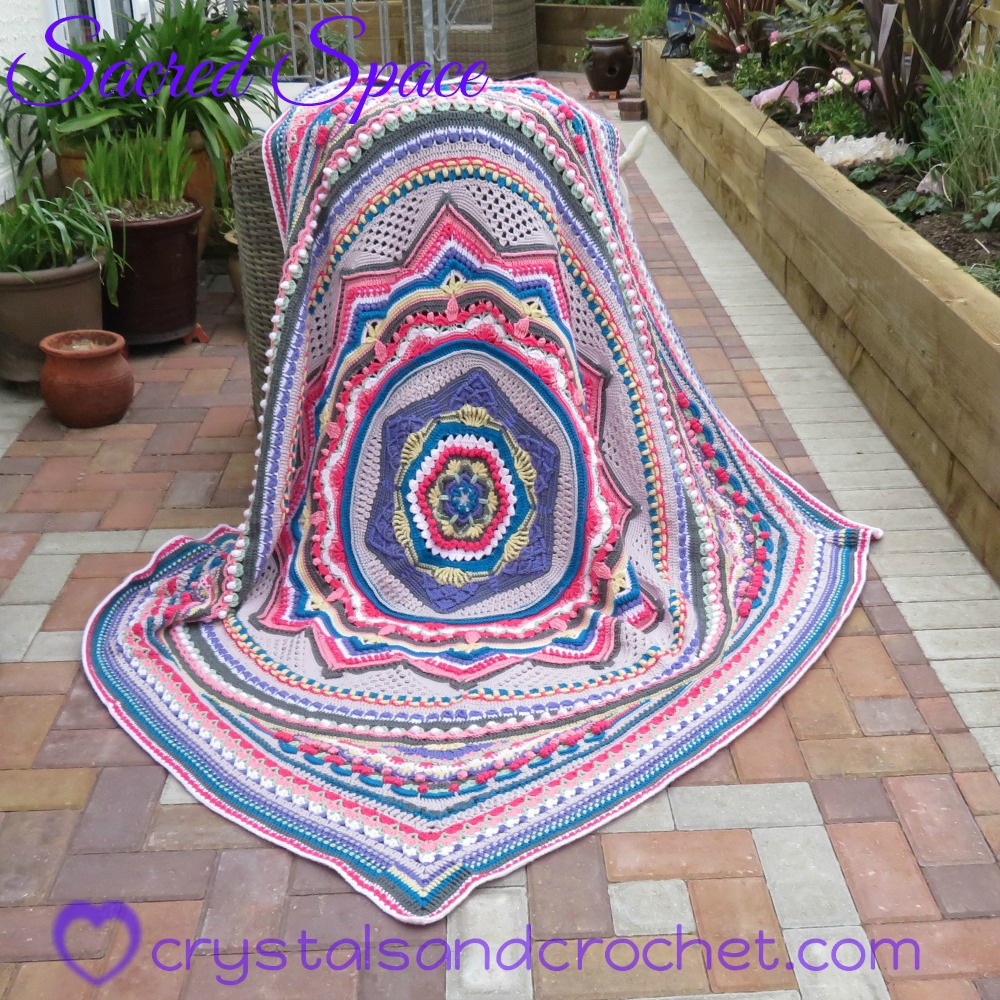 Sacred Balance
Balance is achieved when we embrace everything and allow all to blend together in harmony.
I have chosen a rainbow with a difference. A wonderful mix of light, dark, bright, and muted shades to produce a high energy colour pallet.
Stylecraft Special Dk x 20 balls ~ 100% premium acrylic.
Mushroom           x 3
Empire                 x 2
Violet                   x 2
Graphite              x 3
Lincoln                 x 2
Buttermilk            x 2
Pomegranate      x 2
Soft Peach          x 2
Blush                   x 2
You can purchase the Sacred Balance Yarn pack online at Deramores. Woolwarehouse  and justknotsyarn.
Using these affiliate links helps to support me as a designer and helps me to bring you other free patterns.
Should you choose to go with your own colours you will need approx.
4400 meters/ 4800 yards of Double knit yarn [3 weight/8-ply], depending on how many colours you use, and a 4mm G hook.
4800 meters/5250 yards Worsted/Aran yarn [4 weight/10-ply], depending on how many colours you use, and a 5mm H hook.
Finished size:
Double knit yarn 4mm hook approx. 60 inches/152 cm square.
Worsted/Aran yarn 5mm hook approx. 72 inches/ 183 cm square.
♥ Please help to support me as a designer, and help me to bring you more awesome free patterns by using the affiliate links for my recommended partners at the side of this page.
To help you in choosing your own colours you can download the colouring sheet below.
You will need a minimum of 24 stitch markers

You will know I class stitch markers as our best friend and there are some rounds where you will be asked to place stitch markers and leave them in place until instructed to work into that stitch or space later in the design.
There will be more information available on my website as the CAL approaches.
Useful stuff to learn before we start.
If you are new to my designs and patterns you may want to learn a few skills before we start.
Magic ring: https://www.youtube.com/watch?v=Dfv8o6j3KKo&t=2s
Invisible join: https://www.youtube.com/watch?v=voVI8DUeKqw&t=4s
Standing stitches: https://www.youtube.com/watch?v=wy0Me0NPUOg&t=2s
I have many basic tutorials on my website and Youtube channel to help beginners.
Check your tension: You can take a look at this video Talking Tension, or have a look at the Cosmic countdown post, this will ensure that you achieve the correct finished size and that the yarn pack will contain more than enough yarn for you.
I do appreciate that we all work slightly differently, so if you know your tension is looser do be aware that you will use more yarn than I do.
I would like to thank my amazing team of testers who spend hours finding all the little mistakes in my pattern writing, to ensure we bring you the highest quality patterns, but we are all human and sometimes little things get missed. So if you spot a typo or a little mistake please let me know so that it can be corrected.
Each of my testers has a Ravelry project page listing the yarn, hook size and colours they used, this is to help you with even more inspiration. If you are not a Ravelry user please ask in the group and the ladies will be more than happy to tell you what they used.
Ineke used a stunningly peaceful pallet of greens Ravelry project page.
Info-Sacred-Space-Cal-Ineke-Mooijenkind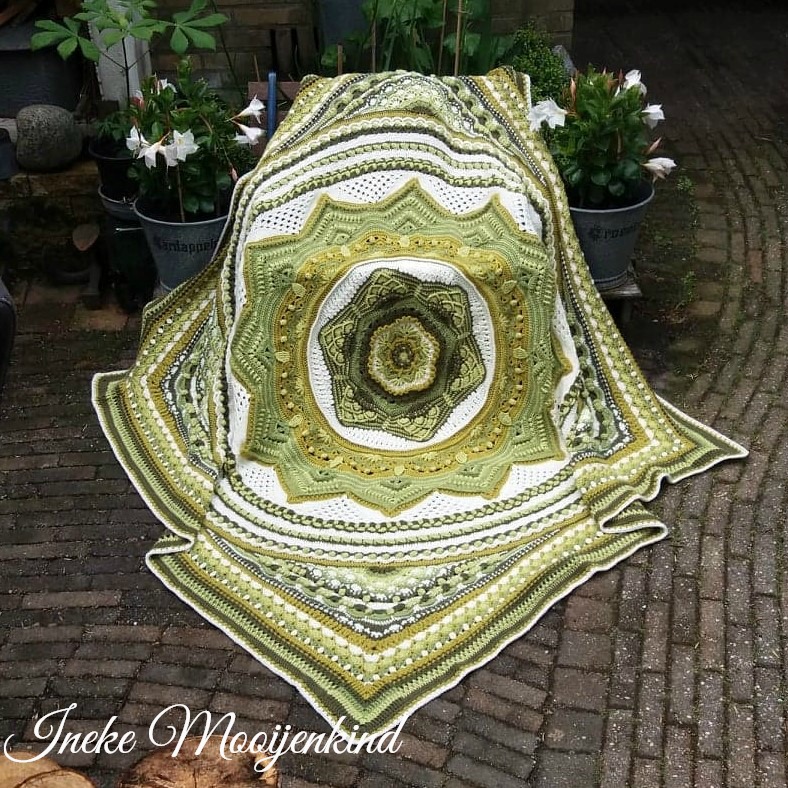 Mellissa went for drama and a high energy vibe Ravelry project page.
Jane was inspired by the cool, peaceful colours of a lake Ravelry project page
Becky used beautiful blues with accents of yellow Ravelry project page.
Sherrie's colour pallet is stunning with a blend of pinks and purples with green Ravelry project page.
Terena created a beautiful monochrome Sacred Space  Ravelry project page.
I am looking forward to sharing this crochet a-long with you all, to those who have joined me before… Welcome Back ♥
To the newbies, you can do it, we are all here to help each other and to learn new skills. It doesn't matter if you have been crocheting for 50 years, or have only recently picked up a hook, or have only ever made simple granny squares in the past. I am here to hold your hand and maintain a sacred space for you to grow and blossom into an amazingly creative hooker!