It is that time of year again, and wow doesn't it come around quickly!
Time to have a little look back at 2019, and time to look forward to 2020
.
Firstly, I would like to wish each and every one of you a very happy festive season, whether you celebrate alone, with family or a larger community this is a time of good will to all and a time to be thankful for all that we have.
On a personal note, I have settled into my new home here in Cornwall, and I feel truly thankful and blessed.
Mr J and I walk on the beach most days and enjoy the peace and quiet. We have had a few visitors throughout the year and have enjoyed taking them to some of my favourite places close to where we live.

It has been a very busy year for me with designing, here is a little review.
In January my first design of the year was published, The Lost Garden is a gorgeous blanket with lots of texture as you have come to expect from my designs.
There are instructions included to enlarge this design should you wish to.
February brought the launch of the Radiance re-write.
The original pattern was my first published blanket pattern, the re-write included photo tutorials, a slight change in the design, and the addition of UK terms.
March A Life Inspired cal in Crochet Now magazine was launched, the final part will be published in January.
It will be available as photo tutorials in both US and UK terms later in 2020.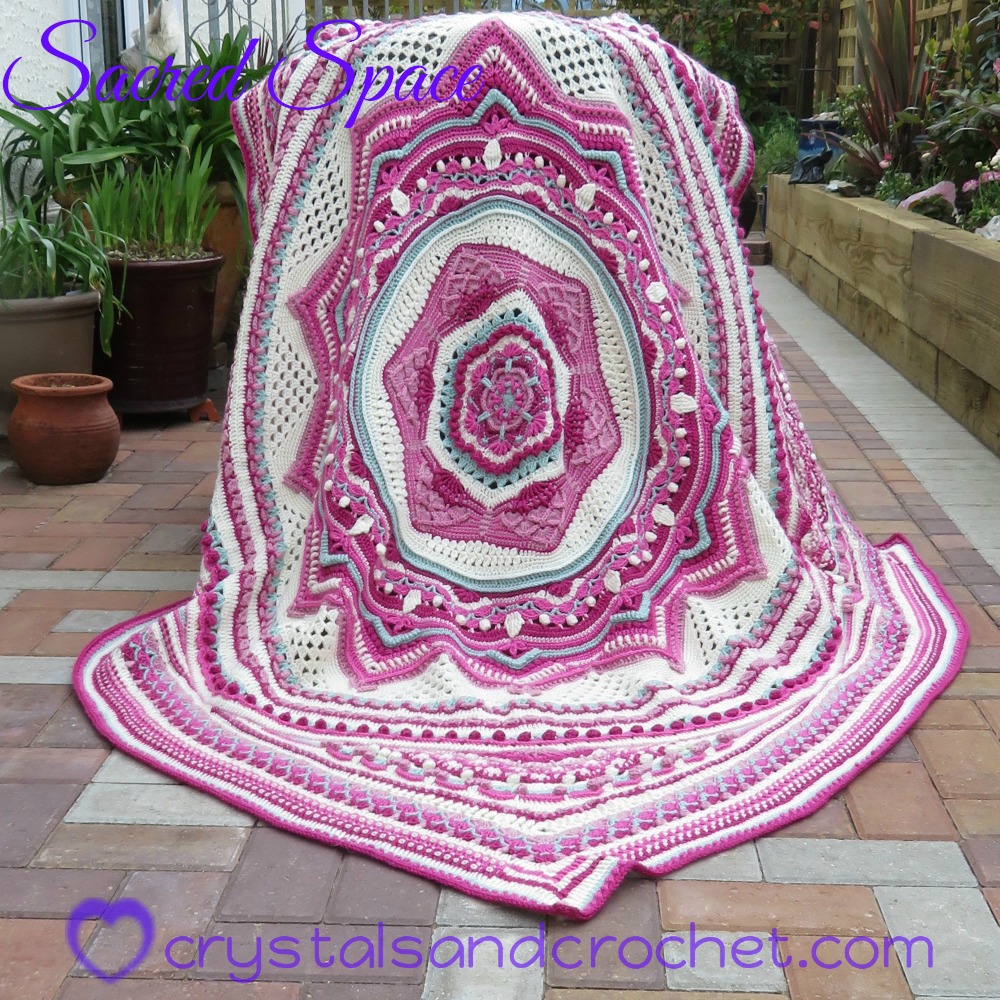 July saw the start of the Sacred Space cal.
Each year I design and publish a crochet along, and this years was the most popular yet.
We had so much fun in the Facebook group Helen's Hookaholics, the amazing array of colours and the beautiful work created by so many people is truly outstanding.
In October I had great fun at our crochet retreat, organised by Gaye Brown, and this is a fabulous photo of the ladies with their Sacred Spaces, some of which are still in progress.

September Arcadia was launched.
I had been sitting on this design for a few months and was itching to share it with you all, but I waited until the cal was finished.
Photo courtesy of Stylecraft Yarns
October is the month when the Knitting and Stitching show is held in London at Alexander Palace, Cornish Comfort was launched to coincide with the show and as a make a long in the new Stylecraft Facebook group.
I was also honoured to receive runner up in the British crochet designer of the year award.
In November I published my final two designs for the year.
Par Sands Shawl is a triangular shape and Amorette which is a free pattern is a scarf/wrap with pointed ends.
So that is what I have shared with you all in 2019, as well as a few articles in various magazines, the Stylecraft Purl Anniversary weekend and a couple of other blog posts along the way.
As you will realise designing takes time and so I already have some things finished and waiting to be let loose into the world next year….but… there will be a little delay on a couple of them as they will link in to some awesome new yarns/colours from Stylecraft.
2020 will bring you another cal, but not until later in the year, there will be blankets, cushions, shawls and lots of gorgeous things for you get excited about.
For me the most exciting thing will be the launch of my brand new website, I am hoping this will be at the end of January.
You will be able to purchase my patterns directly from me through the new website.
Everything is being designed to be more user friendly and streamlined…and…. I am hoping to launch a member's area where there will be all kinds of special treats and goodies.
I published my first pattern in February of 2015, since then I have published a total of 24 Afghan Squares, 12 large Afghan Squares/Cushions, 21 Blankets, 10 Shawl/Wrap/Ponchos and some place mats/coaster sets, hanging mandalas and a few other things, and the ideas keep coming. 🙂
Ok, I know you are all very busy at this time of year, so I am going to go back to designing now and I will wish you all peace, joy and love for this festive season and for the new year.