£0.00
♥ Welcome to Part 7 of the Cosmic Cal ♥
All we are is Stardust and water.
The elements of the Universe are in all of us, underneath it all we are all the same. Each and every one of us has the potential to shine, and light up the lives of those around us. ♥
.
Sign in / Sign up
Twinkle, Twinkle little stars, in part 7 you will be making Cosmic Stars.
I had great fun designing this stitch, once you get the idea it is really quite simple.
Please use the video and photo tutorial to help you to get the placement of the stars correct.
Each round is getting longer now, as we continue our journey through the Cosmos, please remember to use your stitch markers and follow the instructions carefully.
You will have a rectangle again at the end of part 7.
Part 7 of the Cosmic Cal, sponsored by Stylecraft Yarns.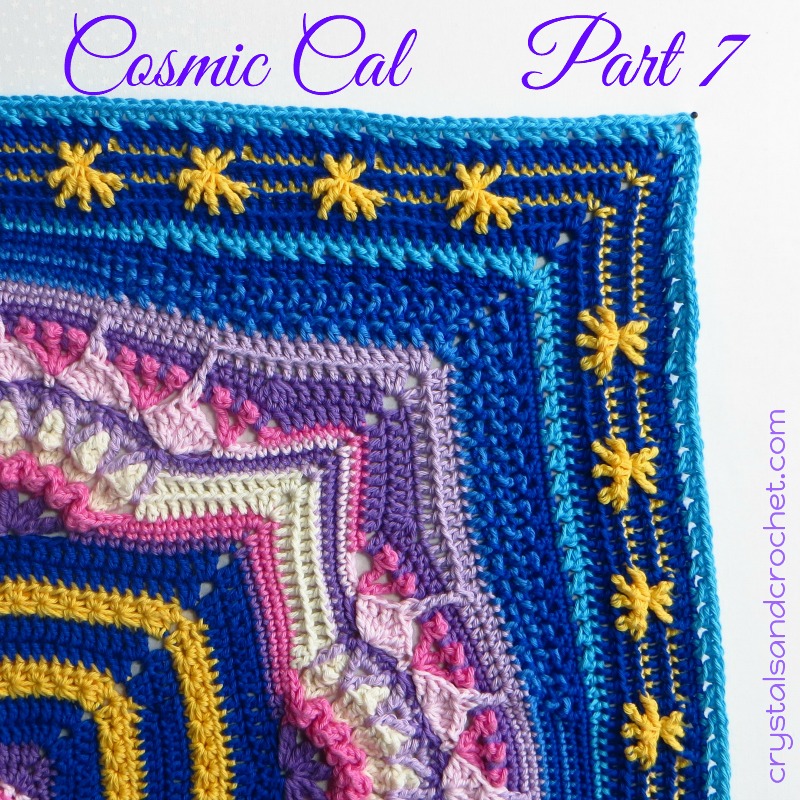 Cosmic Cal part 7 is available as
♥ US terms Photo Tutorial -US terms written pattern – Video tutorial US terms.
♥ UK terms Photo – UK terms written pattern
And also in the following languages
♥ Bulgarian – Български ♥ Czech -Čeština ♥ Danish – Dansk ♥ Dutch – Nederlands ♥ Finnish – Suomi ♥ French – Francais ♥ German – Deutsche ♥ Hebrew – עברית ♥ Hungarian – Magyar ♥ Italian – Italiano ♥ Korean – 한국어. ♥ Norwegian – Norsk ♥ Spanish – Español ♥ Swedish -Svenska ♥ Urdu – اردو
Please select your option, add to your basket and you will receive your download Free.


♥ Please remember all of my patterns are covered by copyright law and may not be copied or shared in any way. You may share a link to my website or Ravelry store with anyone, you may print the PDF for your own use, but please do not alter, change or share in any way.
♥ Please love and respect me, as I love and respect you. ♥
♥ The best way to be in the know with all I am up to, is to follow crystalsandcrochet on Facebook.
♥ If you need help and advice, the quickest way to find support is to join Helen's Hookaholics Facebook group. There you will find a very supportive group of likeminded people. It's also a great place to share your crystalsandcrochet makes, and see what others are making, and see what I am up to.
♥ If you are not a fan of Facebook you can always email me with any questions you may have by using the contact form here.
♥ Please feel free to sign up to my YouTube channel for lots of helpful video tutorials.